Please note that in terms of Government Regulations regarding the State of Emergency to combat the spread of Covid-19, more information is available from http://www.sacoronavirus.co.za
Situated in a nature conservation area 12 km outside Barberton on the R38 Kaapmuiden road, the guesthouse offers quiet weekend getaways or for the more active, birding and admiring local plant species. Established in 1997, the guest house is on the site of the old Clutha Hotel, one of many hotels in Barberton which serviced the goldminers during the gold rush days. The remaining buildings were converted to a private home in the early 1930's.
The guest house is ideally situated to explore the Kruger National Park, Swaziland and the southern Lowveld. Eight comfortable rooms with own entrance and en-suite facilities. Access for wheel chairs available. One double room on ground floor near parking area has wheelchair access with shower over bath combination with hand rails, but not a roll-in shower.
We offer accommodation on a bed and breakfast basis with dinner available on request. If you are arriving late afternoon, early evening, please note that Barberton does not have a big selection of eating places besides the usual take-away franchises. As we are 15km north of Barberton town centre, we would suggest that you book dinner. Please let us know when you make a reservation if you will require dinner and advise us of any special dietary requirements. We are licensed to sell alcohol and do not provide self catering facilities.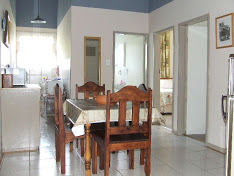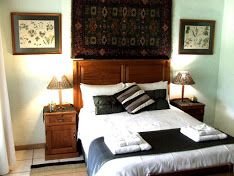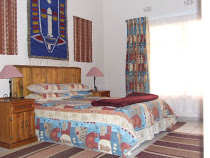 Accommodation consists of:
3 double rooms with shower
Double room ground floor access for wheelchairs, shower over bath with handrails
One bedroom apartment unit with twin beds with lounge and kitchenette
A two bedroom family apartment (one double, one twin), lounge and kitchenette.
One single room with shower
One twin bedroom, two single beds with shower
All rooms have en-suite facilities.
Standard Rates
Effective 01 March 2020 to 28 February 2021
Room rate double R875.00. Single room R580.00. Rates include free breakfast. Rates for the family unit and one bedroom apartment are available on request. These two units are also available for use as temporary furnished accommodation on a weekly basis (minimum stay 7 nights)
Special 15% discount deal: Available for weekend stays valid from 1 October 2020 to 31 December 2020 subject to a minimum stay of two nights. Stay any one night and get 10% off the room rate. Just email "Special deal" when you make your booking.
Check-in times: From 14h00 onwards. Old Coach Road is in a conservation area and gates close 19h00. Late check-in will be allowed until 21H00. No check-in will be accepted after 21h00 and we request that you plan your trip accordingly. Once checked-in, guests are provided with gate access. Check-out is 10h00. Sorry, no pets.
Payment, reservations & deposits : POS-facility for debit/credit cards is available (Mastercard, Visa, Maestro). A deposit of 50% will normally be required to confirm your reservation. Special event weekends that take place in Barberton will require a deposit of 100% and a minimum stay of two nights is applicable for these weekends. Deposits can be done by EFT. We will provide the details by email when you make a reservation. Please note that due to fraud and long bank clearing times, we do not accept cheque deposits.
Cancellation within 7 days of reserved arrival, or no arrival at all will forfeit the deposit. Part cancellation within 7 days or less for group bookings (i.e the number of persons in the group is reduced) the number of persons/rooms originally booked will be charged the quoted room rate