Day outings
From Old Coach Road, you can explore the Southern Lowveld and Swaziland.  Barberton is Mountain land territory – take a day self-drive trip for some fantastic scenery via Barberton/Swaziland/Badplaas and visit the old mining town in Msauli.

Kruger National Park is only a 65km drive away (Malelane gate) and within easy reach for a day visit.  We will supply a breakfast/picnic pack for an early start. If you enjoy hiking, the Queen Rose Hiking Trail on the R38 Badplaas road offers day hikes as well as overnight hikes. More information below.

Take a Tour of Barberton

Take a trip to Barberton for a cultural, natural, and historical experience.  This town in Mpumalanga was founded in the Gold Rush.
Sites to see include museums, memorial buildings, statues, and monuments rich in history.  For example, some mountains here are believed to be around 3.5 billion years old, making them some of the oldest on the planet.
The Barberton Museum tells the fascinating tales of the prehistoric, ancient, and modern history of these parts with displays and exhibitions for the whole family.
From the Barberton Museum, stroll down the Heritage Walk and visit the Barberton Steam Locomotive.  This train ran the track between Barberton and Kaapmuiden from 1899 to 1971.
A trip to Eureka City, a famous ghost town that is just 7 km outside town.  You will need to get a permit to enter its eerie borders, which you can obtain from Barberton Adventures.


For tours to Eureka City as well as underground mining tours, contact:

Barberton Adventures, 117 Crown Street or contact 079 180 1488 
Heritage Walk
The Heritage Walk is a self-guided tour of the historical and cultural delights of Barberton – collect a map at the Tourist Information center  situated on Market Square or from Barberton Museum.













Barberton Museum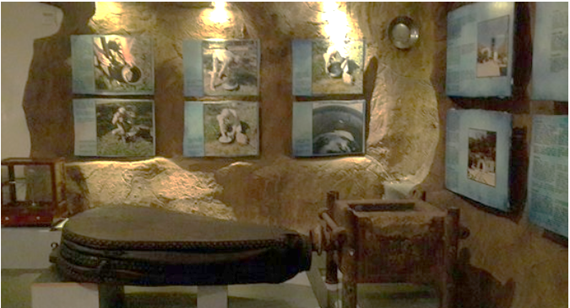 When gold was first discovered in Barberton in 1884, gold prospectors and fortune hunters arrived in their droves in the region to try their luck.  The little town flourished and when gold was discovered in the Witwatersrand region, the hoards moved on and Barberton reverted to being a charming country town.
In 1998, a Mr. Otto Elkan donated a considerable collection of mining specimens and historical mining items, which were then displayed in the Carnegie Library.  Over time the collections expanded – today the Barberton Museum consists of the Main Museum (where geology, mining and general history of the region are on show).
Other museums that are part of the Barberton Museum complex include Belhaven, Stopforth House and Fernlea Museum, as well as Block House.
Barberton Museum, 76 Crown Street or contact 013 712 4208
Bicycling in Barberton
Queen Rose MTB Trail
*13 km / *18 km / *22 km / *33 km / *45 km mainly on plantation roads with some single track.
Best to avoid during the heat of summer (Jan and Feb).  Autumn and winter are by far the best time to ride.
This trail is one of the most scenically impressive of any trail in Mpumalanga.  The routes run mainly through Komati forestry land – lots of pine and eucalyptus plantation peppered by the odd waterfall, muddy riverbanks, grassland, and the odd river crossing (plenty of spots for quick dips in river pools).

Blue Route
13 km return, starting from Makesh Hut, following the main road down to Barberton – via plantations along the river bank of the Queens River, followed by a return ride on the main road make to the hut (there are a few uphill's on the return, so it isn't easy).
Yellow Route
33 km circuit with some technical areas (intermediate).  This route is quite tough, and starts on the Blue Route.
Take the yellow route, climb through grasslands and plantations to the top of the mountain, where you can see the views over De Kaap Valley.  Descend to where the path forks, either back to Makesh Hut, or on to Cupid Waterfall (wonderful for a swim and a picnic).
Red Route
45 km circuit for advanced riders that initially follows the Yellow Route.  Do not take the downhill – continue through Nelshoogte, over the dam to Queens view Hut.
Now you share the hiking trail for 5 km until you reach Cupid waterfall, before heading downhill back to Makesh Hut.
♦  Queens View or Makesh Hut, just outside Barberton, Mpumalanga.
♦  Please inquire for visits.
♦  Prices on request.
♦  Contact:  +27 (0)13 712-4449.
Adventure Skydives
Adventure Skydives in Nelspruit was established in 1994.  The team has skydived all over the world and bring with it a wealth of experience second to none in parachuting.  Specializing in Static line, Accelerated free-fall, Tandem and Display jumping as well as corporate events.  They offer great deals on tandem skydives.
Tandem skydive is the quickest way to experience free-fall.  The jump will take place from 10,000 ft with a qualified Tandem master, who takes you through the entire experience from introduction to the actual jump.  Once in the aircraft and you are at altitude, you will be clipped in with the Instructor and free-fall with him for 40 seconds before the parachute is deployed, after which you will steer the chute safely back to earth together.
Adventure Skydives are located on the R40, between Nelspruit and Barberton, Mpumalanga.
Contact:  +27 (0)83 949-7894.
Geo Trails in Barberton
Queen Rose Hiking Trial
Start:       Nelshoogte Forest Reserve, in the mountains east of Barberton.
Finish:      Nelshoogte Forest Reserve.
Duration:  2 days, 21 km.
Fitness:    Fairly fit, and you will need a good pair of hiking boots.

The Queen Rose Trail is said to be the most scenic trail in the country.  The hike is set in the Nelshoogte Nature Reserve between Badplaas and Barberton.
Much of the hike is spent on the riverbanks of the Montrose and Queens river amongst riverine forest, waterfalls, pools, indigenous trees and a diversity of plants.  The hike is divided in two sections and you can do either one first.
The Montrose section is 13 km and is mostly downhill to Alvin's Falls.
Whilst the Queens River section, which is predominantly uphill, is 8 km.

Most of the hike is along the riverbanks, which can get slippery at times.  The latter part of the day trails through open grassland to Makesh hut.
Queens River section to Queens View hut is 8 km and climbs through indigenous bush and riverine forest along a valley.  Despite sounding like a cool walk, it can get rather humid.  A suspension bridge, foe-fie slide and several pools make the day enjoyable.
Nelshoogte Forest Reserve, east of Barberton on the R38 Badplaas road

Contact:  072 604 9600 or 076 825 5794

The Queen Rose trail offers overnight facilities as well as day hikes.
Barberton Makhonjwa Geo Trail
On your way up the Bulembu Pass, on the R40 towards the Swaziland border, you travel back in geological time.  In fact, about 3.6 billion years when our planet had recently cooled down and the first continental crust had formed.
To view this evidence from the distant past, several geological way-points (Geo-sites) have been established along the route, where you can safely park your vehicle and admire the view and the geological formations.  Give yourself at least a day to view and appreciate this unique record.
An informative book describing the various Geo-sites is available from the Barberton Tourist Office or from local hospitality establishments.

Known officially as the Barberton Makhonjwa (after the mountains behind Barberton) Geo-trail, this self-drive route is a 38 km exploration of ancient rock formations that date from the Archaean period, more than three billion years ago.  These are no ordinary rocks.  The discovery on the mountains behind Barberton has become known as 'the history of our planet cast in stone'.
There are very few places on earth where rocks of the Archaean period are visible.  Every other site is so far removed from civilization, on desolate back roads, as to be unreachable.  But in Barberton they are right next to the road, you have only to get out of your car to see them.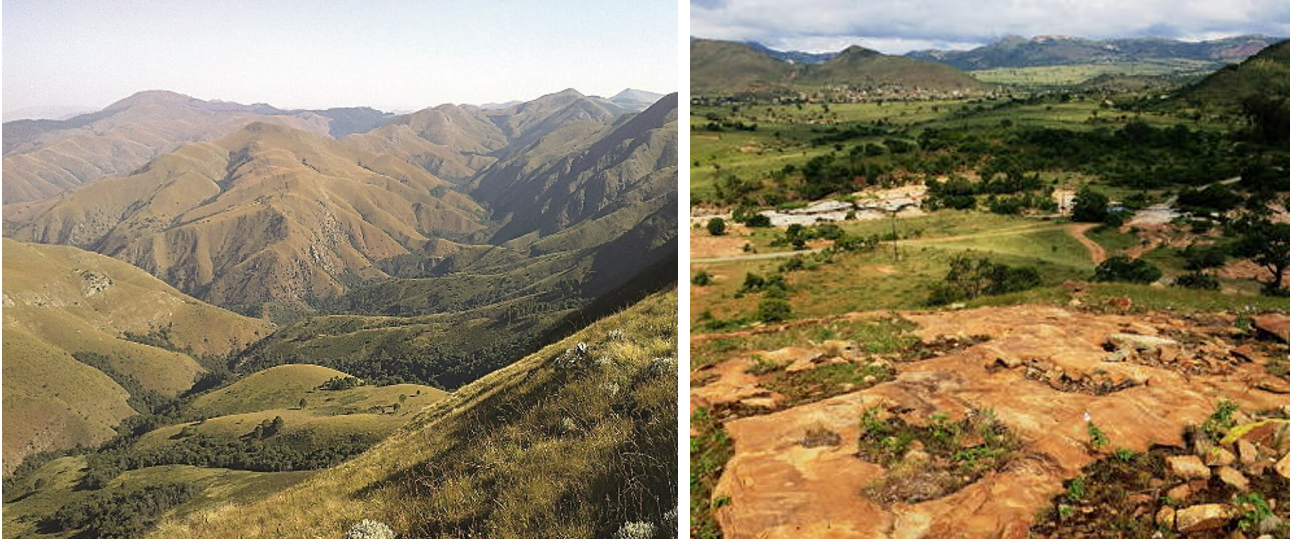 The history of life on earth, involving several key geological elements, is now available for anyone to view.  11 Geo-sites, each with its own information board, along with braille labels, describes the different geological elements.
Elements that include: a 3.2 billion year-old beach deposit, fossilized bio mats in sandstone (the first signs of life on earth, viewable with the naked eye), piles of volcanic pillows formed by lava expelling on the floor of the sea, and volcanic hailstones preserved in chert sediments.
Contained in the mountains, these most ancient rocks in the world are on what has been called the Barberton Greenstone Belt by geologists.


This period describes a world in which the sun hung pallid in the sky, the atmosphere was toxic, there was no vegetation, there were consistent volcanic eruptions, torrential downpours lasting millions of years, a much larger moon (as it was closer and so tides were more frequent and violent) and shorter days.
The route follows the R40 from Barberton to Josefsdal, south to Bulembu at the Swaziland border.  It forms only a portion of a longer 260 km Genesis Route; a figure-of-8 road route that link Barberton, Badplaas and Low's Creek.  The route can be self-drive or done as a guided tour.
For guided tours, contact Dusty Tracks, 20 Pilgrim Street or 072 668 4063